BARBADOS CARNIVAL - ALSO KNOWN AS THE BARBADOS CROPOVER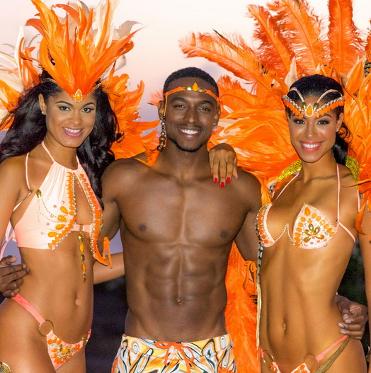 The Barbados Crop Over is a celebration signaling the end of the yearly sugar cane harvest. It has evolved into Barbados' biggest national festival similar to Carnival in Brazil and Trinidad. Beginning in June, Crop Over runs until the first Monday in August when it culminates in the finale, The Grand Kadooment.

The Place: The Island Of Barbados
The Date: July 29- August 4, 2020
When Should You Prepare: Now!
Calypso is one of the main features of the Crop Over festival. The calypsonians are organised into "tents" (Conquerers, Untouchables, House of Soca, Pioneers, Stray Cats,etc) and these tents are sponsored by Barbados businesses.
Calypsonians compete for several prizes and titles, including the Party Monarch, the Road March Monarch and the Pic-O-De-Crop Monarch. The semi-finals of the Pic-O-De-Crop competition are held at the picturesque East Coast Road, where the calypsonians perform on a stage with the Atlantic surf as the backdrop while the spectators gather in the hillsides with their picnic baskets. This magnificent spectacle should not be missed!
The finals of the Pic-O-De-Crop competition is held at the National Stadium, and this is followed by the Fore-Day Morning Jump-Up! The grande finale is the Grand Kadooment! This carnival parade features large bands with members dressed in elaborate costumes to depict various themes. Designers compete for the coveted Designer of the Year prize while the revelers seem more intent on having a good time!
The revelers make their way from the National Stadium to Spring Garden accompanied by the pulsating rythym of calypso music. When they reach Spring Garden, the party continues with more fantastic music, lots of food and drink and, for some, a quick swim at the nearby beach. A grand end to a grand festival.